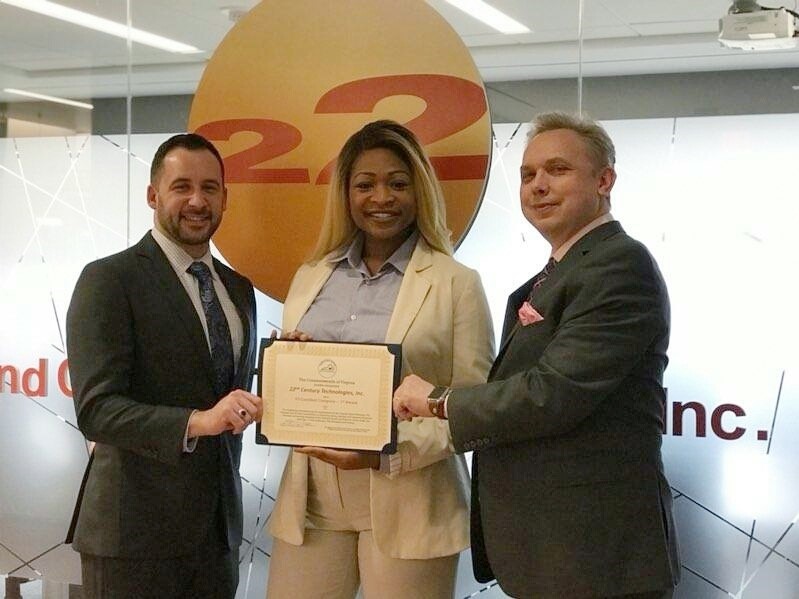 22nd Century Technologies of Mclean, VA is pleased that the Virginia Values Veterans (V3) program has recognized us as becoming a V3 Certified Company. This certification is part of 22nd Century's ongoing commitment to hiring veterans. With 22nd Century's explosive +500% growth in just 4 years, we seek to support veterans, their families and their communities across the country as we continue to grow. V3 is a training and certification program created by the Virginia Department of Veterans Services, helping employers understand and implement best practices in hiring, recruiting and retaining veteran employees. With more than 700,000 veterans and their families residing in Virginia, 22nd Century sees the V3 program as a key to our continued growth.
22nd Century prioritizes hiring veterans, particularly for many of its contracts supporting the DoD with full-stack IT support and staffing services. To achieve our veteran hiring goals, 22nd Century created military talent acquisition leaders and participates in on-base recruitment events. The award also acknowledges 22nd Century's focus on military spouse employment, education and entrepreneurship.
Founded in 1997, 22nd Century has grown to more than 5200+ employees with more than $1.1B in contract awards. Rated as one of Forbes Magazine's Best Companies to Work For, we seek to share our success with veterans through the V3 program.